Who knew we have petroleum pipelines running through Howard County MD? On a recent doctor visit out Dorsey Hall Drive in Ellicott City, I discovered these signs for a petroleum pipeline managed by Colonial Pipeline Company. Surprised by my finding, I decided to do some research. Come to find, there are numerous natural gas and hazardous liquid (petroleum) pipelines throughout Howard County and the USA.
Pipeline Basics
by The Pipeline and Hazardous Materials Safety Administration, US Dept of Transportation (PHMSA)
The energy transportation network of the United States consists of over 2.5 million miles of pipelines. That's enough to circle the earth about 100 times. These pipelines are operated by approximately 3,000 companies, large and small.
Most hazardous liquid and gas transmission pipelines are located underground in rights-of-way (ROW). A ROW consists of consecutive property easements acquired by, or granted to, the pipeline company. The ROW provides sufficient space to perform pipeline maintenance and inspections, as well as a clear zone where encroachments can be monitored and prevented.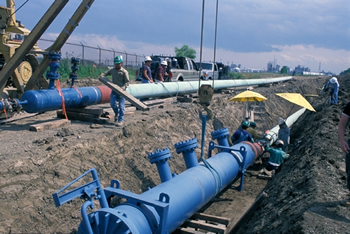 Pipeline operators are required to post brightly-colored markers along their ROW to indicate the presence of – but not necessarily the exact location of – their underground pipelines. Markers come in a variety of shapes and sizes. They contain information about the nearby pipeline as well as emergency contact information for the company that operates it.
Pipelines play a vital role in our daily lives. They transport fuels and petrochemical feedstocks that we use in cooking and cleaning, in our daily commutes and travel, in heating our homes and businesses, and in manufacturing hundreds of products we use daily.
Natural gas provides for nearly 25% of our country's total energy consumption, and petroleum provides for nearly 40%. This requires the transportation of huge volumes of hazardous liquids and gas, and the most feasible, most reliable and safest way to do so is through pipelines.
https://primis.phmsa.dot.gov/comm/PipelineBasics.htm?nocache=9927
Every day, Colonial Pipeline safely and efficiently delivers more than 100 million gallons of gasoline, home heating oil, aviation fuel and other refined petroleum products.
Starting in Houston and terminating at the New York harbor, Colonial consists of more than 5,500 miles of pipeline, most of which is underground, and above ground storage tanks which support safe operations of the overall system.
Colonial connects the robust U.S. refinery region of the Gulf Coast with customers serving communities and businesses throughout South and the Eastern United States.
Colonial – Dorsey Junction [Woodbine] is a refined petroleum pipeline breakout station for Colonial's interstate transportation pipeline system. The facility's tank farm includes breakout tanks for gasoline, distillates, transmix, additives, and other supporting equipment. The facility is located in Carroll County, Maryland.
A major piece of U.S. infrastructure, Colonial's mission is to move energy to where it's needed, store it until it's needed and blend it as it's needed. This is accomplished by committing to safe operations that enable the efficient, reliable and responsible transportation of fuels.
Potential Hazards
by The Pipeline Operators Safety Partnership
Pipelines are the safest mode of transportation. Despite this, pipeline releases can create hazards for both communities and responders. A pipeline release can result in:
Fire or explosion
Vapor cloud
Toxic or combustible fumes
Asphyxiation
Contamination of the environment
Pipelines can carry many different types of products ranging from gaseous material to thick crude oil. Some of the more common products being transported by pipelines are highlighted below with information on the product's characteristics and hazards. Operators keep MSDS information for each product they transport. This information is available from the operator upon request.
Crude Oil – Crude oil occurs naturally in liquid form ranging from a water-like substance to a very thick tar. It can range from amber to black in color. Crude oil is combustible. Exposure can cause moderate irritation including headaches and dizziness. Crude oil can also contain H2S, which is toxic.
Refined Liquid Petroleum Products – Refined products derived from crude oil including gasoline, jet fuel, diesel and chemicals. Gasoline is flammable; distillates are combustible. Exposure can cause moderate irritation including headaches and dizziness. Exposure to refined fuels may also cause eye and skin irritation.
Natural Gas – Colorless, odorless gas used as a fuel source. Odorized when being transported to an end user. Natural gas is flammable and can ignite when it comes into contact with an ignition source. In confined spaces exposure can cause asphyxiation. Natural gas can contain hydrogen sulfide, which is toxic.
Liquid Petroleum Gas (LPG) & Natural Gas Liquids (NGLs) – NGLs include a range of hydrocarbon elements including butane, iso-butane, propane, ethane, and natural gas condensate. These elements are extracted from the gas stream during processing. NGL is combustible. Exposure can cause moderate irritation including headaches and dizziness. NGLs can also contain H2S, which is toxic.
http://www.pipelinepartnership.com/potential-hazards.php
Mission — PHMSA's mission is to protect people and the environment by advancing the safe transportation of energy and other hazardous materials that are essential to our daily lives. To do this, the agency establishes national policy, sets and enforces standards, educates, and conducts research to prevent incidents. We also prepare the public and first responders to reduce consequences if an incident does occur.
Vision — Our vision is to make PHMSA he most innovative transportation safety organization in the world.
Maryland State Authority — PHMSA's Office of Pipeline Safety (OPS) and Maryland [Maryland Public Service Commission] partner in pipeline safety regulatory responsibilities. The National Association of Pipeline Safety Representatives (NAPSR) is a nonprofit organization of state pipeline safety personnel who serve to promote pipeline safety in the United States and its territories. Under PHMSA certification and agreements, NAPSR members support the safe delivery of pipeline products by conducting inspections of pipeline operators to determine compliance with applicable state and federal pipeline safety requirements.